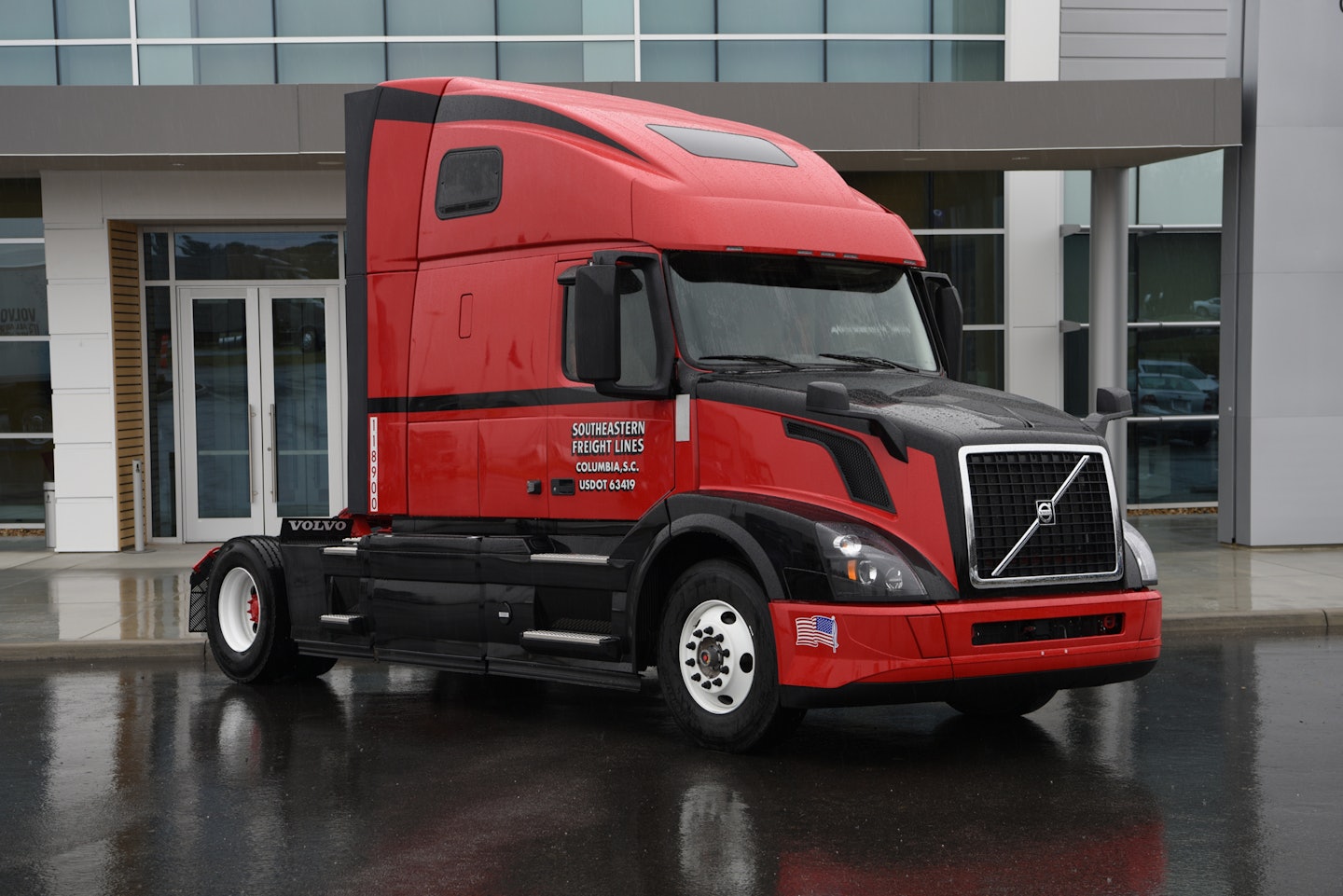 Volvo Trucks announced Tuesday it has completed the transition from production of the legacy VNL 670 model to full production of the new VNL 760.
Designers of the new Volvo VNL 760 combined elements of Volvos design language with dynamic new performance features to appeal to long-haul customers. Swept-back headlights include signature Volvo daytime running lights and frame a bold new Volvo grille and hood. Redesigned and repositioned engine air intakes allow for less turbulent intake air delivery. Airflow up and around the cab has also been optimized with new chassis and roof fairings. The VNL 760s sleek new design better controls airflow around the truck and its trailer, resulting in improved fuel efficiency.
When combined with the efficiency benefits derived from the Volvo D13 Turbo Compound (D13 TC) engine, the new VNL can help drivers achieve up to a 7.5 percent increase in fuel efficiency when compared to a 2015 VNL model equipped with a GHG 2014 D13 engine.
The new VNL 760 comes standard with the 13-liter Volvo D13 engine and Volvo I-Shift 12-speed automated manual transmission. An available option, the D13 TC engine utilizes a mechanical waste heat recovery system to capture wasted energy from the engines exhaust. The result is an additional 50 horsepower fed back to the crankshaft and an improvement in fuel efficiency of up to 6.5 percent. The 15-liter Cummins X15 is also available for the VNL 760.
Interior enhancements to the new VNL Series
The new Volvo VNL 760 features an all-new dashboard which puts often-used controls within the drivers reach. Centered in the gauge cluster is a five-inch color driver information display that provides detailed trip and diagnostic data. The driver information display is customizable, ensuring that critical information is always available to the driver at a quick glance.
Like all models in the new VNL series, the Volvo VNL 760 is also equipped with Volvos smart steering wheel, putting controls for nearly all of the driver interface functions right at a drivers fingertips. The smart steering wheel is attached to Volvos Perfect Position air-assisted, infinitely adjustable steering column, which enables drivers not only to tilt and telescope the steering column, but also tilt the steering wheel relative to the steering column. This lets drivers find the perfect steering wheel position for optimal comfort and easily view the instrument cluster.
A wide variety of seating options are available on the new VNL 760. An increase in seat travel fore and aft, as well as up and down, improves driving ergonomics. Premium features like seat heating and ventilation are also available. The VNL 760s all-new 70-inch sleeper features curved cabinets that open toward the back to maximize space, as well as an integrated, reclining bunk, which is a trucking industry first in North America. LED interior lighting reduces power consumption and provides softer lighting. A redesigned sleeper control panel allows drivers to control heating and cooling, and adjust the audio system from a more ergonomic position on the bunk. In addition, drivers can lock the doors or activate a panic alarm if needed.
Standard Active and Passive Safety Systems
Volvo Active Driver Assist (featuring Bendix Fusion), is standard on all Volvo VNL models. The camera and radar-based system combines forward collision mitigation warnings and active braking, even with stationary vehicles. The system features an industry-first heads up windshield display if a driver approaches too closely to an object in front of them. If no driver action is taken, the system can automatically apply the brakes to help mitigate a collision. Volvo Enhanced Stability Technology, an electronic stability control system, is also standard on all VNL models to help detect imminent loss of control, jackknife, or rollover events. The system automatically reduces engine torque and selectively applies braking to help keep the truck on course.
To improve visibility, help fight fatigue and reduce maintenance, Volvo employs LED bulbs as standard equipment for all exterior and interior lighting. The new VNL features LED high/low beam headlights, as well as LED turn, marker, and parking lamps. Premium headlamps also features a signature LED daytime running light. Automatic lighting and rain-sensing wipers are also available to help improve safety.
Long Volvos standard, the new VNL 760 cab is built with high-strength steel and exceeds both the Volvo Swedish Cab Safety Test and ECE R-29 rollover requirements. The industrys only standard drivers side airbag is now joined by an integrated, seat-mounted rollover airbag on the drivers side.
Superior Connectivity
All Volvo VNL models come standard with Volvo Remote Diagnostics, Volvos factory-installed telematics hardware that provides connectivity for proactive diagnostics and monitoring of critical engine, transmission and aftertreatment trouble codes. The same hardware also allows customers to perform powertrain software and parameter updates over-the-air with Remote Programming, which helps improve uptime and vehicle efficiency, while reducing downtime costs.