Search all Equipment Experts Listings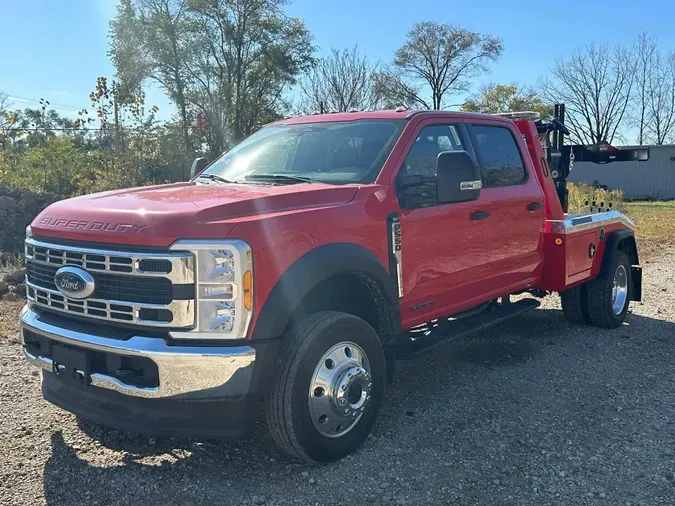 2023 Ford F550 4X4 XLT SD CREW CAB For Sale
Stock#: A357C/A359B
VIN#: 1FD0W5HT5PEC33116
2023 Ford F550 4X4 XLT SD CREW CAB For Sale
Stock#: A357C/A359B
VIN#: 1FD0W5HT5PEC33116
Equipment Specification
Description
The Jerr-Dan MPL-40 auto loader is the choice of savvy operators throughout the industry. Jerr-Dan's MPL-40 is an industry leader with it's robust, easy to use hydraulic wheel grids, auto stop function making sure you come to 1 inch off the ground and attention to quality. Out-tow the competition with the Jerr-Dan MPL40 wrecker. With an 8-ton recovery boom and choice of three wheel-grid packages, the MPL40 has the versatility to handle whatever job you put in its path. Patented LOCKLINK® technology lets you tackle more tows with every shift. Best of all, its a Jerr-Danso you know you can rely on it day in and day out.EQUIPMENT: SERIAL: 1 MPL40 Standard-duty Wrecker with Recovery BoomWINCH OPTIONS FOR MPL40 WITH RECOVERY BOOM: 1 Dual 8K Worm Gear Winches with Swivel (Requires Qty 2 Cables) 1 Cable 3/8" x 110' 2-Ton EIPS (Qty 2)WHEEL GRID OPTIONS: 1 Hydraulic 4,000 lb Wheel GridsCONTROL OPTIONS: 1 Wired Remote with Membrane Touch-Pad Switches for Underlift FunctionsHYDRAULIC LINES FITTINGS:BODY OPTIONS: 1 Back-up Alarm - Variable @ 82db to 102dbMUDFLAP OPTIONS: 1 Mudflap Brackets with Jerr-Dan MudflapsFENDER OPTIONS: 1 3.50" Fender Tubs for Aluminum Body (Set)LIGHT PYLON OPTIONS: 1 Body/Toolbox Mounted Aluminum Pylon with 3-Sets Marker LightsLIGHTING OPTIONS: 1 Whelen 10-Head LED Amber 60" Light Bar 1 Upper Work Lights for Pylon (Pair)DIRECT MOUNT PTO/HYDRAULIC PUMP COMBO APPLICATIONS:1 2020 PTO/Pump Combo (Chelsea) Ford F-35/450/550 DieselSUPPLY PRESSURE RETURN (SPR) HOSES: 1 SPR for 2017+ Ford Gas/Diesel with Direct Mount PTOSTANDARD PAINT SCHEME: 1 Subframe Underlift Painted Jerr-Dan Gloss Black 1 Body, Pylon, Tunnel Toolbox Painted PrimeTow Options:Miscellaneous Options/Accessories:WHICH CHASSIS ARE YOU UTILIZING FOR THIS BUILD? CHASSIS MOUNTING KIT: 1 Chassis Mounting Kit for 2016 Older Ford F-350/450/550 DieselPACKAGING OPTIONS: 1 Crating for All MPL40 Ship-Out Kits ****************************************************Jarrod Powell Jerr-Dan Light/Medium Product Pro C:***************************************************
Unit of Measurement
6.7L Power Stroke V8 Turb
About the Dealer
McMahon Truck Centers is a family-owned group of heavy-duty and medium-duty commercial truck dealerships with eight locations in six states. We pair leading edge support solutions together with strong, premium vehicles from Mack, Volvo and Hino.
View more listings from McMahon Truck Centers
Contact by Text Message
A Virtual Assistant will relay your contact information and message to the dealer.
Listing ID: 16247507